Vermont's governor pardons nearly 200 for pot, Houston's incoming DA says no jail for pot possession, a British medical regulatory agency recognizes CBD as medicine, and more.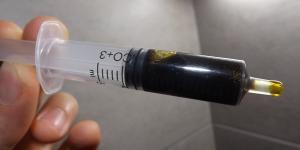 British medical authorities have officially recognized CBD cannabis oil as a medicinal product. (Creative Commons/Wikimedia)
Marijuana Policy
Alaska Gets First Legal Marijuana Tax Revenues. The state is starting to reap the fiscal benefits of marijuana legalization, as the Department of Revenue announced it had taken in $81,000 in taxes from seven growers in the month of November. The revenues came from taxes on 98 pounds of pot and 10 pounds of trim, which are taxed at $50 an ounce and $15 an ounce, respectively.
Vermont Governor Pardons 192 for Pot Possession. Gov. Peter Shumlin (D) has pardoned 192 people convicted of possessing small amounts of marijuana. Some 450 people applied for pardons after Shumlin announced the program last month, but he only pardoned 192 after looking at subsequent criminal histories. "While attitudes and laws about marijuana use are rapidly changing, there is still a harmful stigma associated with it," Shumlin said. "My hope was to help as many individuals as I could overcome that stigma and the very real struggles that too often go along with it."
No Jail for Marijuana Possession in Houston. Incoming Harris County District Attorney Kim Ogg has said the practice of jailing people for pot possession is over. "All misdemeanor possession of marijuana cases will be diverted around jail," Ogg said. "I've never felt good about putting marijuana users in the same jail cells as murderers. It's just not fair, it doesn't make any sense, and our country is resoundingly against that."
Medical Marijuana
Florida is Now a Medical Marijuana State. The constitutional amendment approved by voters in November to legalize medical marijuana went into effect Tuesday. But the state doesn't have a distribution system up and running yet. Lawmakers and the state Department of Health will have to craft rules, with an implementation target date of September 9.
Massachusetts Medical Marijuana Hearing Aims to Ease Patient Access. At a public hearing in Boston Tuesday, advocates called for changes in the state's medical marijuana law to allow hospices and nursing homes to provide the medicine for patients. "Hospice patients are literally out of time," said Elizabeth Dost, clinical director for the Massachusetts Patient Advocacy Alliance, which represents medical marijuana patients. "The patient's average length of stay (in hospice) in Massachusetts is 35 to 45 days. By the time they access cannabis, they are often deceased." Another public hearing is set for Thursday morning in Holyoke.
Law Enforcement
NAACP Activists Arrested in Protest at Attorney General Nominee's Office. Six NAACP demonstrators were arrested after occupying the Mobile, Alabama, offices of Sen. Jeff Sessions (R-AL), Donald Trump's choice to head the Justice Department. The NAACP is demanding the Sessions turn down the nomination to be attorney general, citing his record of ignoring voter suppression but prosecuting black voting rights activists. Sessions is also opposed by broad swathes of the drug reform community for his stances against marijuana legalization and sentencing reform and in favor of asset forfeiture.
International
Britain Recognizes CBD as a Medicine. The Medicines and Health Care Products Regulatory Agency (MHRA) Tuesday classified CBD as a medicine in the United Kingdom. The agency said it made the move after reviewing claims from several companies that their CBD products offered health benefits.
Georgia Marijuana Activists Face 12 Years in Prison for Planting Pot Seeds. In a New Year's Eve act of civil disobedience, dozens of activists and the Girchi Party planted pot seeds at party offices, publicly breaching the country's criminal code and exposing themselves to up to 12 years in prison under the country's drug laws. The Girchi Party is demanding drug decriminalization and marijuana legalization.