The attorney general's crime task force has little new to say about grappling with legal marijuana, Sessions sends another letter to another governor, the US leans on Colombia over coca, and more.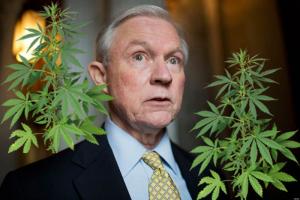 Jeff Sessions is on a lonely crusade against marijuana legalization. (freethoughtproject.org)
Marijuana Policy
Sessions' Crime Task Force Refrains from Recommending Legal Marijuana Crackdown. The Justice Department's Task Force on Crime Reduction and Public Safety has failed to come up with policy recommendations that could weaponize Attorney General Sessions' efforts to wage war on legal marijuana, the Associated Press reported Friday. The task force report instead urges officials to continue to study whether they want to roll back the clock on the Obama-administration's laissez-faire approach to states that have legalized medical or recreational marijuana. The report did, however, call for officials to continue to oppose congressional moves to block funding for the department to go after medical marijuana in states where it is legal.
Sessions Sends Letter to Colorado Questioning State's Management of Legal Marijuana. Attorney General Sessions has sent a letter to Colorado officials accusing the state of failing to keep marijuana from being diverted out of state or keeping it away from kids. The letter was dated July 24 and cited a Rocky Mountain HIDTA report from last September to raise "serious questions" about the states oversight of its legal marijuana program. "Please advise as to how Colorado plans to address the serious findings in the Rocky Mountain HIDTA report, including efforts to ensure that all marijuana activity is compliant with state marijuana laws, to combat diversion of marijuana, to protect public health and safety, and to prevent marijuana use by minors," Sessions wrote in the letter obtained by the Cannabist. Sessions has sent similar letters to the governors of Oregon and Washington.
Maine Public Safety Panel Rejects Per Se DUID for Marijuana. A Department of Public Safety committee charged with addressing marijuana and driving has decided the state does not need a DUID law for pot that sets a blood-level limit for THC. Committee Chair Scot Maddox said the state's existing laws against impaired driving would suffice, but that lawmakers should provide more money to train police to recognize pot-impaired drivers.
Medical Marijuana
Texas Bill Would Expand Medical Marijuana Qualifying Conditions. State Sen. Jose Menendez (D-San Antonio) Senate Bill 79 last year, but it hoping it will be taken up during the legislature's special session, which still has 10 days left. Under current law, only people suffering from intractable epilepsy can use medical marijuana. This bill would expand the list of qualifying conditions to include PTSD, cancer, traumatic brain injury, and other "debilitating conditions."
International
US-Colombia Tensions Over Coca. At a congressional hearing last week, the State Department's Assistant Secretary for International Narcotics and Law Enforcement Affairs ("drugs and thugs") William Brownfield said the US could not support elements of Colombia's efforts at coca crop substitution and alternative development because the FARC is involved and the US considers the FARC a terrorist organization. But it is precisely the FARC with whom the Colombian government signed its peace deal. Brownfield also called for limits on voluntary coca eradication agreements and insisted the Colombian government implement "a robust forced manual eradication effort." In remarks to the press afterward, Brownfield threatened Colombia with "bilateral political problems" if a solution acceptable to Washington is not found, Insight Crime reported.